EtherWAN's Media Converters Play Essential Role in Distributed Control Systems (DCS)
---

---
Overview
Electric Power, Water and Gas distribution systems all require communications systems. Communications is critical in measuring, monitoring and controlling various aspects of the systemsthat provide these services. EtherWAN has teamed with a major supplier of mission critical control systems. These systems monitor and control Electricity, Gas and Water production and distribution. EtherWAN provides Ethernet connectivity devices that distribute communications to the various end points that performthe measuring, monitoring and control functions.
---
Technology
Modern supervision control and data acquisition (SCADA) systems utilize IP communications systems which generally require Ethernet connectivity. IP communications systems are generally constructed using Ethernet routers and switches. In this case the systems are large and utilize Ethernet routers to construct a fiber optic backbone Ethernet network. EtherWAN fiber optic mediaconverters are used to connect each field device to the network backbone.
---
Challenges
In the case of communications systems for electric, gas and water utility operations part of the system is in a nice airconditioned control room(s) and part of it is in outdoor cabinets. In this case,the connection between the control room(s) and the sensors and control points is a mixture of multi-mode and single mode fiber optic cable. This presents a challenge to provide equipment that meets these requirements and is efficient in the use of space and power.
---
Solution
By utilizing EtherWAN's media converter product line, this system supplier is able to build the network to match the requirements, regardless of the infrastructure or the size of the project. Using EtherWAN's EMC1600 rack mount chassis and commercial grade media converters in the control room and EtherWAN's fully hardened DIN Rail mount media converters in the field locations, this system supplier is able to construct a network that is extremely versatile. EtherWAN has the most diverse line of Ethernet media converters in the industry, allowing the system supplier to meetany interface challenge.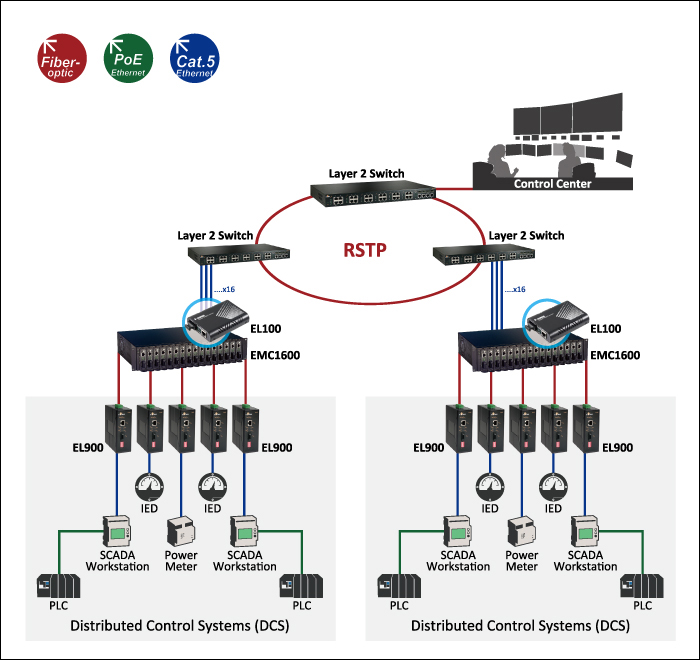 ---
Results
A major system vendor has standardized on EtherWAN media conversion products to build out their control system networks. By mixing commercial and hardened with the diverse types of interfaces this system supplier is able to design a network for any system they need.
---
Related products:
---
EtherWAN – " When Connectivity is Crucial "
► For more information, please contact: [email protected]
---