The World's Largest Transit Counts on EtherWAN for IP-based PA Systems
---

---
A massive transportation system in the U.S. moves millions of passengers daily across its almost 500 stations. With safety as a priority, passengers must have access to up-to-the-minute information, as well as be able to instantly report emergencies.

After more than a century of operation, a major metropolitan subway recently found itself using an antiquated system for the reporting of emergencies and information requests. This passenger-help system was troublesome to scale, and required frequent repairs. The city authorities kicked off an initiative to improve this system by collaborating with various vendors to develop the best solution – an integrated IP-based kiosk featuring high-quality voice communications, straightforward deployment, centralized management, supreme scalability and the robust network performance needed in a public safety solution.
---
The Challenges to Network Connectivity
To provide a better passenger experience, the systems integrator planned to update the existing analog intercoms to IP-based kiosks. However, several challenges quickly arose:

Power issues
The new system involved many connected network devices such as PoE wireless access points and PoE IP cameras, and all of these devices required reliable power.

Logistics issues
The networked devices had to be installed inside the kiosk unit, with specific dimensions adapted to subway station architectures.

Bandwidth issues
The networked devices had to have the necessary bandwidth to deliver voice, data and video over IP transmission.

Maintenance and durability issues
A key issue was the need to contain operating costs through minimized repair and maintenance requirements for equipment.

Deployment spaces in subway tunnels and platforms place harsh physical demands on installed equipment. Underground tunnels are usually damp, and there is often water dripping on platforms. Installed equipment must be able to handle the urban climatic swings between severe cold and heat. Furthermore, there is a constant amount of electrostatic discharge and electromagnetic interference in subway stations.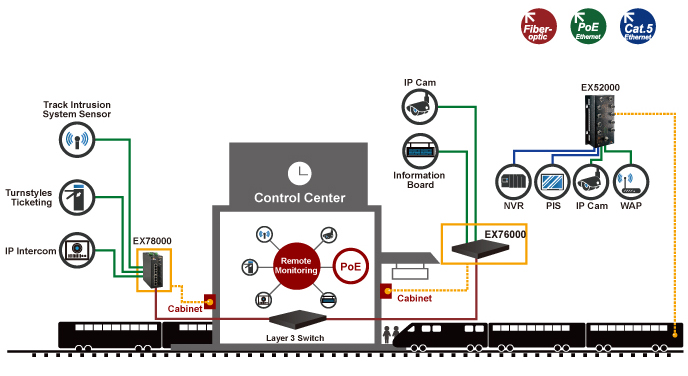 ---
The Network Connectivity Solution: EX78000 Series PoE Switch
EtherWAN's hardened EX78000 Series PoE switches were employed for this extensive subway infrastructure project, supplying ample power for wireless access points and surveillance cameras directly through LAN cables. Since there was limited space in the installation areas, EtherWAN offered a customized mechanical design in regards to the physical dimensions and connector placement. The resulting PoE switches fit perfectly inside the new information kiosks.

The benefits Reliable PoE
The EX78000 hardened managed Ethernet switch provides 8 ports of 30W PoE per port with IEEE802.3at standard, delivered over Ethernet cables.

Efficient Network Management
Network management functions help facilitate data communications efficiently and securely, while reducing maintenance hassles. EtherWAN's Alpha-Ring self-healing ring technology provides a recovery time of less than 15ms after a fault, ensuring non-stop transmission and minimizing packet loss. Network engineers can access management features such as port security, IGMP snooping, port-based VLAN, GARP protocols and link aggregation, via web browser, Telnet, SSH, SNMP, RMON, TFTP and RS-232 console interfaces. For quick maintenance, an external storage device is available for switch configuration backup and restoration.

No moving parts, extended lifespan
EtherWAN's EX78000 series hardened Ethernet switches are constructed from durable materials, and undergo environmental testing from -40°C to 85°C. The fanless and ruggedized housing provides extra durability against shock and vibration. The switches are also compliant with EN 55022 for high immunity from electrical interference, an important factor in rail environments.

Optimized mechanical design
EtherWAN provided customized dimensions and mounting methods to make switch installation compatible with the subway's unique structure.

As a result, 1900 IP-based interactive kiosks were installed and are now successfully serving innumerable passengers throughout subway stations all across the city. Whenever a passenger wants a particular information, or needs to report an emergency, he/she can approach one of the kiosks and talk to a subway representative with just the click of a button. With video, voice and passenger information all communicated as part of a connected solution, passengers reap the benefits of improved punctuality and safety.
---
Related products:
---
EtherWAN – "When Connectivity is Crucial"
► For more information, please contact: [email protected]
---