Motorcycles for ITS Surveillance
---

---
Background
Smart surveillance is not a one-size fits all for cities across the world. With privacy concerns from citizens and ensuring accountability for police organizations, implementing new surveillance systems can often be a sensitive topic. With continuous growth in surveillance around the globe, 4G LTE has allowed news way to monitor major cities--including the use of motorcycles.
As the world's major cities invest heavily in public safety infrastructure projects, one major city has taken a unique approach. Instead of body cameras, the police force has employed a motorcycle-based smart surveillance system to provide high-quality and real-time image analysis, ensuring a high level of security and safety of these urban dwellers.
The Challenge
To upgrade police observation capabilities, several hundred police motorcycles became equipped with day/night speed dome network camera, suitable for this volatile and fast-moving application. The cameras have IP66-rated housing for protection against rain and dust, and support H.264/MJPEG video compression. Even with compression, however, a huge amount of video data generated by these cameras needed to be processed and transmitted quickly, efficiently, and securely over 4G.
In addition to the video data, the system on every motorcycle was required to handle data for the battery management system (BMS). This system manages a rechargeable battery by protecting it from operating outside its safe operating area, monitoring the battery power, voltage, and temperature, as well as reporting the data collected back to a centralized server.
System requirements:
Working under extreme temperatures – With unpredictable weather and no climate control on motorcycles, the transmission devices need to be able to function reliably in both very hot and very cold weather.
Bandwidth: The networked devices needed to have high bandwidth to deliver large volumes of video data over cellular transmission. Furthermore, data couldn't be lost in case of a dropped wireless connection.
Peripheral Devices: Device must be able to interface with battery and battery temperature sensors.
Security: Solution must provide secure intelligent communications.
The Network Solution: EW50 Industrial Cellular Gateway
Fitting perfectly into the monitoring boxes mounted on the back of the motorcycles, the EW50 is equipped with dual 4G SIM card slots, providing a backup connection in case the primary signal is lost. With Global HSPA+ and 4G LTE support, the EW50 is certified for the world's major cellular networks, and had no problem functioning with the local carrier.
Connecting the hardware, the EW50's 1 Gigabit Ethernet port linked up the surveillance camera, while the two RS-232 serial interfaces were used to connect to the battery and battery sensors. For security concerns, the EW50 offers IPSec VPN support for up to 16 concurrent channels, so both battery and recorded video data can be transmitted securely to police headquarters through VPN. The low power consumption of the EW50, only 3 – 7 watts, allows for long-term use without putting excessive strain on the battery's capacity. Lastly, the EW50 can operate in temperatures ranging from -30° to 70°C, ensuring maximum reliability even in harsh conditions.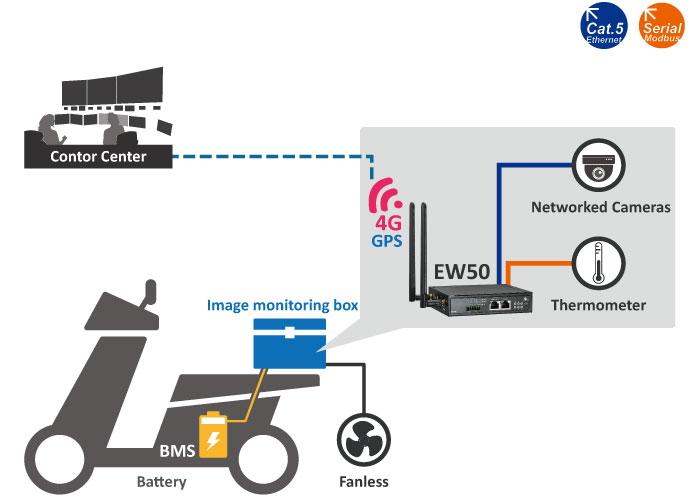 Conclusion
The surveillance needs of today's smart cities are increasingly requiring high-quality video surveillance systems. Advancing the trend of IoT communications for public infrastructures, EtherWAN is well-positioned to meet upcoming data transmission needs in terms of speed, reliability, security, and endurance, and the EW50 Industrial Cellular Gateway is an outstanding example of this.
Related products:
---
EtherWAN – " When Connectivity is Crucial "
► For more information, please contact: [email protected]
---