4G – A Better Approach to Traffic Management
---

---
Background
Traffic management has historically been a major issue for cities and municipalities around the world. In the past decades there has been a global trend toward urbanization, with millions of people leaving rural areas, moving to cities and suburbs, and creating never before seen levels of urban populations and car densities. This has exacerbated the traffic situation in many areas, and created a need for new solutions that ensure traffic flows smoothly and safely. Additionally, there is an increased need for the monitoring of weather and air pollution at intersections, as these environmental factors have become important aspects modern smart traffic management.

Traditionally, traffic management has required manual setting of the control equipment on-site, for example, at the intersection's traffic control box. Remote management from a centralized control center is more efficient in terms of both time spent and manpower required. However, to achieve remote control through a wired network requires expensive infrastructure projects – oftentimes roads must be dug up for the installation of network cabling, a project of considerable size and expense. Using new technologies, remote control of traffic intersections can be achieved wirelessly, and powerful Internet of things (IoT) technology can be more easily leveraged. However, both data security (encryption) and firewall must be well considered and implements to prevent intrusion and protect these critical systems.

This is the situation faced by a metropolitan area that had multiple intersections located on the outskirts of the city – away from the urban infrastructure that existed for traffic management. The automatic control equipment (ATC) at the more remote sites had to be manually set by engineers, as these traditional sites had no remote control capability.

A wireless system for remote configuration of monitoring of traffic control assets was needed, and the city government turned to EtherWAN for help.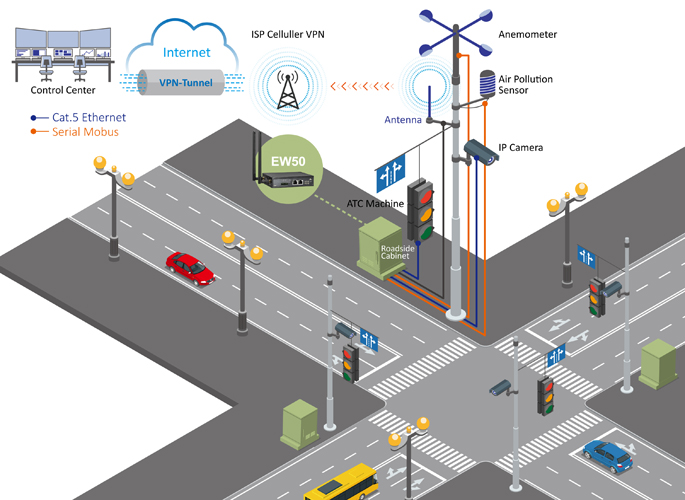 ---
The Challenges
The city demands a cost effective wireless solutions that delivers the same consistent and reliable performance as a cabled solution.
Security of the system is paramount, requiring both data encryption and firewall.
The equipment at intersections needs to be able to be rebooted remotely, with no need to physically access the site.
Because the traffic control cabinets on site have no cooling, all equipment must be able to operate flawlessly in temperatures ranging from -10 to 70°C.

System requirements include:
Remote field ATC monitoring and control
All video data recoded at an intersection must be backed up to the central control center for analysis of traffic flows, so that personnel can make corresponding changes made to the local ATC
IoT application must transmit temperature, humidity and air pollution information to the back end for data recording
RS-485 interface with support for Modbus protocol
MQTT (MQ Telemetry Transport) for sending data to the Cloud (EW200 Only)
Dual cellular (SIM) card support for transmission redundancy
VPN (Virtual Private Network) tunneling and encryption


---
The Network Solution: EW50 Series
EtherWAN rose to the challenge again, with the EW50 industrial 4G gateway solution. Capable of operating in temperatures ranging from -30 to 70°C, the EW50 is an intelligent industrial grade 4G gateway designed for critical infrastructure and industrial applications. It supports dual SIM cards for failover, ensuring that data flow remains largely uninterrupted. For safety, a VPN was used to connect to the local ISP, thereby extending the private network across the internet. The EW50 is equipped with a host of firewall functions, including packet filter, URL blocking, content filter, MAC Control, application filter, and intrusion prevention system (IPS).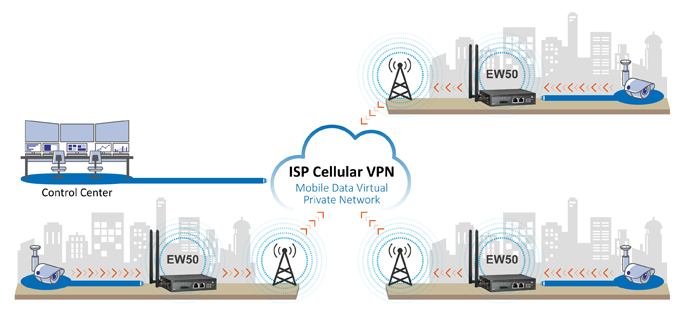 Installed at the field site, the EW50 connects to monitoring devices such as anemometers and pollution sensors through its RS-485 interface, and uses the Modbus protocol to not only receive data, but also control the connected Modbus devices. EW200 supports MQTT, a publish-subscribe network protocol, is used to publish Modbus data to the MQTT broker in the Cloud, where it can be analyzed by powerful Cloud applications that are ideal for processing Big Data, large data sets that are too voluminous to be handled by traditional data-processing. As a 4G solution, SMS messages can be used in conjunction with the digital output (DO) function of the EW50 to control terminal devices and cameras.

Overall, the final solution was a robust 4G implantation that fully met the city's needs, serving as a vital link in the safe and efficient management of traffic flows.

---
Conclusion
As the saying goes, "modern problems require modern solutions." 4G is a mature broadband cellular network technology, and when combined with support for the serial communications systems that still power many types of sensors and end devices, it can massively reduce installation costs while upgrading management efficiency in traffic and roadside applications. EtherWAN is at the forefront of this exciting new technological era.
---
Related Products:
---
EtherWAN – " When Connectivity is Crucial "
► For more information, please contact: [email protected]
---